Buying anything for a teenager is hard, and buying a camera is even harder because you have to think about the features he or she may want. Additionally, it is an expensive purchase, and not all cameras for teens in the market provide you with the appropriate "value for money" level.
There are a lot of advantages to buying your teenager a camera. You might be fulfilling a lifelong dream, or better yet, you might be awakening something, and your gift might just be the key to opening up a budding future professional – you never actually know these things. Granted, it is expensive, but it is one of those purchases where you cannot actually go wrong with getting it.
But the main issue is the fact that there are a whole lot of cameras in the market presently and it is quite difficult to find the 'perfect' one for a teenager, and particularly – your kid. Based on our experience, the properties that should be taken into consideration are:
Durability
This factor actually depends on the person getting the camera and it varies from individual to individual. We have to keep in mind that accidents do happen and it is important to be prepared for the occasional fall or actual mishandling. Not many cameras can survive a fall but the fact remains that a lot of cameras are more fragile than others and in this situation, it is important to go for one that can withstand the actual pressure.
Features
Remember that you are probably buying this teenager the first camera ever. If it is a teenager that has shown an interest in cameras, then you can go for the feature-heavy DSLR cameras where there are technicalities attached to taking pictures and multiple opportunities that afford you the liberty to properly manipulate the way you take pictures. For others that might not be as camera savvy – maybe those that use their cameras to take selfies or capture events – you might want to get them a camera with fewer features so as not to overwhelm them and also, you can save a lot more money if the cameras have features they don't use.
Size
The size of the camera you buy is also an important factor in this discussion, the perfect cameras for teenagers nowadays would be preferably small and light enough to fit and always have in a knapsack or a backpack. That fits more with the narrative that they would like to have a camera that they can take anywhere and use to capture quite a lot of events in their lives. Going for a big camera might not really be the best option in this situation because it wouldn't be as flexible and would only be taken around when necessary.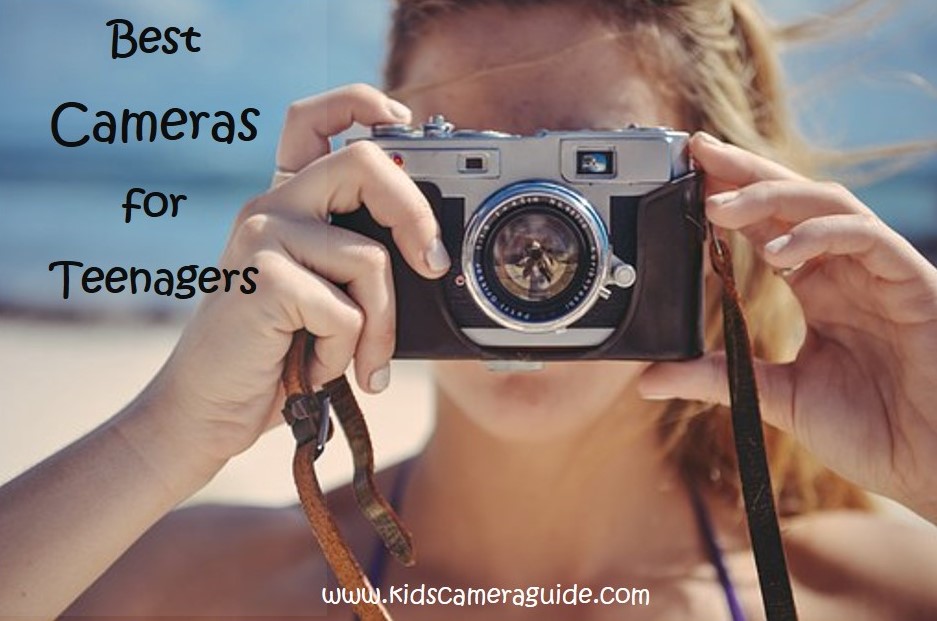 To summarize: These are just a few of the factors you have to put in mind when buying a camera for a teenager, and they mostly have to do with your kid's age and level of interest in photography; you will also consider price and the opportunity to get a lot of features for fewer amounts of cash. But the number of options available in the market might sometimes be overwhelming.
The good news are that we're here to help you!
We have reviewed the top 5 cameras for teenagers, from basic to more advanced, and have mentioned their pros and cons. It will help you get a better understanding of which camera is best for your teenager.
If you are in a hurry then you can check our choice of the best camera for teenagers regarding performance, the Pentax K-70 on Amazon.com. You can also check our choice for the best camera for teenagers regarding value for money, the Polaroid Snap Touch on Amazon.com.
Check the table below for a quick look for the best camera for teenagers:
Camera
Best Features
Price (on Amazon)
Polaroid Snap Touch
Print and Digital
Bluetooth printing
Good Photo and print quality
From $145.00
Nikon COOLPIX A900
Long zoom
Pocket-friendly
Tilting screen
SnapBridge Technology
From Out of stock
Canon PowerShot SX720 HS
Easy sharing and transfer
Stereo sound
Ease of Use
Zoom Assists
From $305.99
Sony Cyber-shot WX220
Stylish and Compact
10x optical zoom
Built-in Wi-Fi
From Check on Amazon
Pentax K-70
SLR system is compact
From $646.00
The Best Cameras For Teenagers in 2018:
Polaroid Snap Touch Review
When you buy a Polaroid's Snap Touch you get the best of both the worlds, the bygone era of having prints and the new technology of taking great photos. You can also edit these photos easily on the digital camera since it has photo editing technology. You can connect it with your smartphone and print out great photos.
Pros
Print and Digital: Since it has both versions, print and digital, you can store digital and only print out really good ones which you want.
Bluetooth printing: You can connect your smartphone to your camera and take prints.
Good Photo and print quality: The photo and print quality is reasonably good.
Cons
Basic Menus: For a camera, the menus which are available are very basic.
Tiny prints: Since the camera is small in size, the prints taken are small and the paper is expensive so you may rethink printing too many photos.
Recommendation
This is a great camera for the money. As a digital camera, you can click and edit good photos and as an instant camera, you can take good prints. The photo quality is reasonably good and so is the print quality. Neither is exceptional.
Check the latest price of the Polaroid Snap Touch on Amazon.com
Nikon COOLPIX A900 Review
The Nikon Coolpix A900 is a compact camera which has a new super-zoom option. It has an amazing 35x optical zoom. It is simple and great for a beginner, as well as for a teenager interested in photography, as it is a point and shoot style camera. It has 4k recording of video with the option of HD recording. It has complete manual control and is compatible with the Bluetooth Snapbridge technology of Nikon.
Pros
Long zoom: It has an astounding 35x optical super zoom.
Pocket-friendly: It is very affordable for its price.
Tilting screen: It has a screen that tilts which makes it easy to take complex photos
SnapBridge: It is connected with Nikon's Snapbride Bluetooth technology.
Cons
Non touch-sensitive sensitive screen: This makes it difficult to zoom etc.
Small sensor: The sensor on the Nikon Coolpix A900 is small making it difficult to use
No viewfinder: A surprising thing is that the Nikon Coolpix A900 does not have a viewfinder.
Bad Low-light performance: The performance and clarity in a low light environment is very bad.
Recommendation
The Nikon Coolpix A900 is a one of the best compact camera in the market today. It is great for a teenager since he or she can use it as a point and shoot camera. Even a beginner can take great shots with this camera. It is a compact camera but is very powerful. It has one of the best optical zoom in the market.
You get huge zoom range, video recording of 4K and manual control which is full with this camera. Very useful for a teenager interested in photography.
Check the latest price of the Nikon COOLPIX A900 on Amazon.com
Canon PowerShot SX720 HS
The Canon PowerShot SX720 HS camera is a versatile piece of hardware that is capable of properly capturing family events and special moments. With a 40x optical zoom, you can capture close-up portraits of family, landmarks in the distance while on vacation and almost everything in between. The Canon PowerShot SX720 is packed with heavy features; built-in Wi-Fi and NFC connectivity, a 20.3-megapixel CMOS sensor and DIGIC 6 image processor combine to produce stunning images and spectacular 1080p Full HD video.
Pros
Easy Sharing and Transfer: With its built-in Wi-Fi and NFC capabilities, it is quite easy to share and transfer images and videos.
Stereo Sound: The Canon Powershot can capture fantastic full HD videos with a stereo sound quality.
Ease of Use: The camera possesses a large screen that can be viewed from wide and multiple angles.
Zoom Assists: This feature allows your camera to zoom in and out while following your subject, helping it remain in focus.
Unique Images: It employs a creative shot mode utilizing composition, colour and lighting to produce beautiful pictures with artistic flair.
Cons
Price: The Price is a little higher when compared with other point and shoot cameras.
Camera Buffer: It has a buffer that impedes the performance of the burst mode.
Struggles in Lowlight: Maximum ISO setting of 3200 equals a camera that struggles in low light.
Recommendations
This camera excels at family gatherings, vacations and special moments. Taking in quality pictures at the click of a button.
Check the latest price of the Canon PowerShot SX720 HS on Amazon.com
Sony Cyber-shot WX220
The Sony Cyber-shot DSC-WX220 is a stylish and capable camera that juxtaposes accessibility, performance and style in its design. It possesses an 18.2MP sensor capable of a maximum ISO3200 standard sensitivity and also, the latest BIONZ X processor. It also possesses a 10x lens and in addition, a versatile 25-250mm zoom range, this is in 35mm camera terms.
Pros
Stylish and Compact: The Sony Cyber-Shot excels in superb and stylistic product design, sleek and comfortable.
10x optical zoom: It possesses up to a 25-250mm zoom range that makes long-distance pictures excellent.
Built-in Wi-Fi: It possesses Wi-Fi features for easy sharing with other devices.
Cons
Tricky Interface: It might take a while to adjust to the menu and controls of the camera.
No grip or Thumb Rest: Without these factors, it makes it difficult to hold the camera at odd angles properly.
Recommendations
This is a very simple stylish and compact camera that offers a lot in both areas of performance and style. The optical zoom lens is still considered its most favorable feature.
Check the latest price of the Sony Cyber-shot DSC-WX220 on Amazon.com
Pentax K-70 Review
The Pentax K-70 is the latest SLR camera of the Pentax Company. It has a good 24MP image sensor. The body is heavy and tough and can withstand drops. It is still compact which makes it easy to travel with. It has a body which is weather proof and splash proof which helps you to click great photos even in adverse weather.
Pros
SLR system is compact: The camera is compact though it is heavy so it is easy to travel with.
Large optical view finder is large: The optical view finder of the Pentax K-70 is large so it is very beginner friendly.
Body is splash-proof and weatherproof: This is a great advantage as it helps you click photos in any weather condition.
Screen is fully articulated: The screen is fully articulated which helps you use on screen touches easily.
Easy to use and has scene mode options for beginners: This is a beginner friendly camera which is great for teenagers. The Pentax K-70 is very easy to use and you can use pre-set scene modes so that you get great photos.
Remote control and image data transfer is possible via Wi-Fi: Since you can control the data transfer via Wi-Fi, you can easily transfer your photos from the camera to either your phone or to your laptop.
Cons
Low AF system: The AF system of the Pentax K-70 is very low.
Few interfaces: The interfaces leave a lot to be desired. The microphone jack which you would need for video recording, for example, is not there.
Recommendation
The Pentax K-70 is great in terms of all its features. It has an amazing strong body and is weather-proof which makes it great to travel with. It is easy to use and has beginner friendly features. Can be a great camera for a teenager interested in photography.
Check the latest price of the Pentax K-70 on Amazon.com
Conclusion
I hope you liked our list of best camera for teenagers. Please do comment below if you feel we have missed out on any camera and we will try to review it.