Does your kid love getting underwater? Grab the opportunity of boosting their interest through introducing underwater photography to them. Apart from the learning experience that they will enjoy, buying kids who love to swim and dive a waterproof camera which can capture great photos under water is a good investment into their passion. It would be an excellent gift which your children will treasure and it will enhance their love for living and exploring the underwater world – either at the beach or at the swimming pool.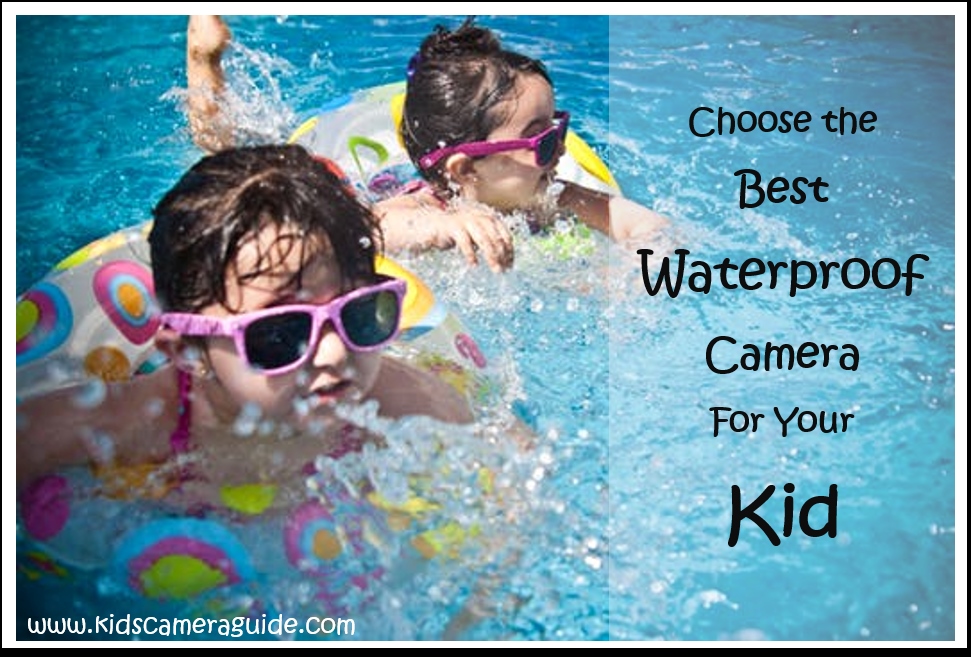 Making a choice of what to buy for your child may turn out to be an uphill task for you. There are many options in the market today, including all A class brands, and there are so many things to take into consideration (performance, quality, value for money, and more) that it might be exhausting. The good news is that you don't need to waste your time searching online for the best underwater camera for your kid. We have done all the handwork and came up with our reviews and recommendation for the best 5 waterproof cameras.




If you are in a hurry then you can check our choice of the best waterproof camera for kids regarding performance, the Canon PowerShot D20 12.1 MP CMOS Waterproof Digital Camera on Amazon.com. You can also check our choice for the best underwater cameras for kids regarding value for money, the Nikon Coolpix S33 on Amazon.com.
Kids Waterproof Cameras Comparison Table
Check the table below for a quick look for the best waterproof cameras for kids:
Camera
Best Features
Price (on Amazon)
Canon PowerShot D20 12.1 MP CMOS Waterproof Digital Camera
Deep water photography
Waterproof
Compact design
Great visibility via LCD
Easy to use
From Out of stock
Panasonic Lumix DMC-TS5
43 meter Depth
Sharp lens
Rugged camera
1080p60 video recording
From Out of stock
Nikon Coolpix S33
Waterproof
Shockproof
Affordable
Excellent macro performance
Easy to use
Fun effects
From $199.00
FinePix XP120
Freeze proof
Waterproof
Dustproof
Excellent for many outdoor activities
Easy to use

From
Tough TG-5
High-Speed
Waterproof
Shockproof
Crushproof
Freeze proof
Dustproof
Anti-Fog Lens Glass

From $379.00


We present to you, our camera review of the best waterproof cameras for kids in 2018 below:
Canon PowerShot D20 12.1 MP CMOS Waterproof Digital Camera Review

If you are looking for a camera for your kid which will be great in all types of weather conditions then the Canon PowerShot D20 12.1 MP CMOS Waterproof Digital Camera is the best in the market. It is durable and can withstand any type of weather i.e. snow, sleet, rain, etc. It is compact and very sleek, the kind of camera that would not be easily broken by your kid. This camera has exceptional performance in low light moments, and can still be effective underwater despite the depth. It has a wide lens which results to clear images. The Canon PowerShot D20 12.1 MP CMOS Waterproof Digital Camera comes with an Intelligent SI which selects the best of six modes for the shooting conditions.
Pros
Deep Photography: It can clearly take photos up to a depth of 33 meters.
Waterproof: It is built to be waterproof so you can click in any type of weather without any additional water seals.
Compact design: The design of the Canon PowerShot D20 Camera is sleek and compact making it easy to carry and not too cumbersome for a kid.
Great visibility via LCD: Even underwater, the visibility of the Canon PowerShot D20 Camera via the LCD is clear which helps in clicking good photos underwater that comes with the best color saturation.
Easy to use: This is the most important feature when it comes to being used by a kid. It is very easy to use.
Longer battery power: When fully charged, the camera gives one a prolonged video shooting session plus image taking. Its very suitable for long outdoor adventures.
Cons
Color casts for underwater photos: The Canon PowerShot D20 Camera has color casts when it takes underwater photos though it can be rectified by scene modes.
Recommendation
The Canon PowerShot D20 Camera is a good camera for your kid to click photos in any weather condition or even underwater. It has a 12.1 MP lens. This helps it click high quality photos in areas with poor lightning such as deep underwater. The camera has the ability of taking perfect images while on the move due to its shake resistance features.
You can check the latest price of the Canon PowerShot D20 Camera on Amazon.com
Panasonic Lumix DMC-TS5 Review

The Panasonic Lumix DMC-TS5 is a high end very tough camera. It has a 16 MP lens and can shoot clear images right up to a depth of 43 feet making it a great underwater camera. It has very sharp lens and the quality of its video is excellent. It has great a Wi-Fi interface.
Pros
43 meter Depth: It can shoot a photo very clearly up to a depth of 43 meters
Sharp lens: With a 16 MP lens the photos are sharp and clear
Rugged camera: It is built to withstand the outdoors and even if it slips from your kids hand, it can withstand a fall of up to 6 feet.
1080p60 video recording: The video recording of this camera is great. It has an illuminating feature that light up the actors during a shooting session.
Longer battery life thanks to its improved battery which withstands longer usage of Wi-Fi and Bluetooth.
Stable images: Your kid has the option of recording images while playing or moving thanks to the stabilization feature on the camera.
Tracking enhanced: You can easily track the camera in case you lose it, plus it comes with a compass direction that can come in handy in case your child gets lost while adventuring. The camera can also be linked to any mobile related device.
Cons
Image noise: There is a high level of image noise as compared to its peers.
Less wide angle: Compared to other outdoor cameras, the angles of the Panasonic Lumix DMC-TS5 camera are less wide.
Recommendation
The Panasonic Lumix DMC-TS5 is great as an outdoor all weather camera. It has great depth of 43 meters and can easily click photos and videos in any weather condition. Other than the image noise and the wide angle not being too much, the Panasonic Lumix DMC-TS5 has great features that include tracking and compass direction. It also has longer battery life meaning that your kid can record images for a longer time during underwater adventure.
You can check the Panasonic Lumix DMC–TS5's latest price on Amazon.com
Nikon Coolpix S33 Review


The Nikon COOLPIX S33 is one of the best waterproof cameras and would be great for kids. Since it is from the Nikon brand you can be assured of high quality. It has a 13 MP sensor and is shockproof and is dust and water proof. It is a great camera for a kid and an adult and can click photos in all kinds of weather. The clarity of the pictures is guaranteed even on windy days. Another interesting thing about the Nikon COOLPIX S33 is that it comes in a variety of colors like yellow, pink, white and blue which makes it a delight for kids. The images and videos taken underwater using the camera are very clear. It has an exceptionally long battery life which makes your kid able to record their underwater adventure for a long period. You can transfer your kid's videos and pictures to your PC by simply using a USB cord.
Pros
Waterproof: It is built keeping in mind that it will be used underwater.
Shockproof: A god reason to buy this camera for your kids is that it is shockproof. Kids tend to drop cameras accidentally and this camera can withstand drops easily. It is also resistant to vibration.
Affordable: In its range it is one of the most affordable cameras.
Excellent macro performance: The macros performance of the Nikon Coolpix S33 is very good.
Easy to use: When you buy a camera for a kid, it is important that the camera would be easy to use. The Nikon Coolpix S33 is a great camera from this perspective because you can just point and click. The camera comes with a simplified menu for everyone to use: It has very basic menu system that makes it easy for your child and anybody else in the family to use. The buttons are also large enough for easy manipulation.
Fun effects: The camera has fun effects and kids love it. As I mentioned above, the Nikon Coolpix S33 also comes in 4 colors which makes it a fun camera for kids.
Cons
Longer optical zoom: It would be great if the optical zoom of the Nikon Coolpix S33 was longer so that you could click images at a deeper depth.
Absence of Panoramic mode: The camera lacks panoramic mode.
No optical zoom for videos: There is no optical zoom in the Nikon Coolpix S32 when taking videos.
Recommendation
With the Nikon COOLPIX S33 you'll find a very easy camera to use. This makes it great for a kid to use. You can drop it in a pool or click snaps underwater and still take great images. Kids love it due to its ease to use and the many fun effects and the variety of colors it comes in. Your video and image recording sessions will not be interrupted by battery power, for the camera has been confirmed to have an exceptionally longer battery life. It can be used for other activities outside the water. With its ability to resist vibrations, the camera produces vivid and stable images that are free from shaking effects making it a perfect fit for kids who are always moving around while venturing in and out of water. It has light weight making it fit for kids to carry around. The pricing is very pocket friendly as many could afford it. With its fun filled effects, it's an amazing camera for kids who might enjoy the choice of colors available.
You can check the price of the Nikon Coolpix S33 on Amazon.com
FinePix XP120 Review
The FinePix XP120 camera is specially designed for outdoor including underwater. It comes with ultra-compatibility with a megapixel of sixteen. Its resistant to shock, water and freezing making it usable by your kid in all weather conditions. It has an internal memory than can hold long video and images recording. The camera is also very light to carry around, weighing 6.24 ounces. You also have the option of getting connected to the Wi-fi via the camera to ease file transfer to your computer.
Pros
Waterproof: The FinePix XP120 is a perfect fit for your child's underwater recording adventure.
Dustproof: The camera can withstand dusty conditions which are coming during outdoor adventures.
Shockproof: The camera is not affected by a sudden fall making it good for kids
Freeze proof: The FinePix XP120 can be used under low temperature without the quality of images being affected.
Inbuilt cinemagraph mode: The feature makes filming underwater an easy task with guaranteed quality.
Scene modes: The camera has a wide selection of scene modes to choose from.
Cons
You have to go to the menu to switch modes.
Has a poor low light situation compared to the others.
Recommendation
The FinePix XP120 has very clear underwater images. It comes with the latest technology that includes the ability to connect to the Wi-Fi, has many scene modes and HDR. With the ability of making it a point and shoot camera, it is easier for kids. With this camera, your kid will enjoy a longer image recording session thanks to its long battery life. The FinePix XP120 has been tested in indoor and outdoor circumstances and it has come out fine. The images are extremely vivid.
You can check the price of the FinePix XP120 on Amazon.com
Olympus Tough TG-5 Camera Review
The Tough TG-5 camera is equipped with a very fast image sensing mechanism for reducing noise and performance in situations that favours little or no light. It also has an inbuilt compass direction and a GPS. Its waterproof, shockproof, dust proof and crushproof making it a perfect fit for kids who would otherwise crush a normal camera while in play. Whenever outdoor and you have fog, no worries the Tough TG-5 camera has a shock resistance lens that come in handy in such situations.
Pros
Friendly user interface: The user interface is friendly for kids and adults.
Long battery life: The TG-5 camera can be used to record videos and images for a longer period.
Perfect snorkelling photos: The camera's ability to capture underwater images is superb.
Fit for filming: Your kid can have fun making underwater filming activities.
Resistant to water, freezing, dust and shock: The TG-5 camera can be used in any weather condition.
Cons
The WIFI only works with cell phones
User tweaks for aperture or program shift is not provided.
Recommendation
The T-G 5 camera is highly recommended for use by kids underwater. It's resistant to the major elements that would have made its performance week. They include water, shock and freezing. The camera has the ability of getting nice images in areas where there is lack of enough light. Your kids can enjoy longer recording thanks to its long battery life. Apart from underwater adventure, the T-G camera can be an advantage in any kind of outdoor and indoor image recording.
You can check the price of the Tough TG-5 on Amazon.com
Conclusion
I hope you liked our list of waterproof cameras for kids. Please do comment below if you feel we have missed out on any camera and we will try to review it.